Commedia dell'Arte: Masks, masters and servants
A downloadable Commedia dell'Arte

Commedia dell'Arte is a humorous graphic adventure experience (10min) for PC Windows, Mac OS X and Linux about theater and improvisation.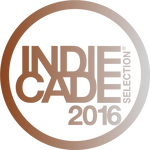 Official Selection, IndieCade Europe 2016
http://europe.indiecade.com/?page_id=42&lang=en
Student Competiton Entrant, Independent Games Festival 2016
http://www.igf.com/content/commedia-dellarte-masks-masters-and-servants
Featured on Game Jolt, Playlisted by Kill Screen
https://twitter.com/gamejolt/status/704386473899008000
https://killscreen.com/articles/practice-your-improv-in-this-videogame-theater/

Dive into the skin of a young comedian of the XVIIth century, newcomer in an Italian street theatre troupe, embodying the valet Arlecchino in various burlesque situations!
Influence the storyline, and entertain the audience. Interact with various characters and objects, and choose wisely your playing intentions to lead your troupe on the road of success!
***
A burlesque immersion in a still rare thematic in games: stage acting!
An accessible game with a point-and-click inspired gameplay!
A colorful artistic direction inspired by cut-out animation!
Many hilarious interactions and animations to discover!


Like Commedia dell'Arte on Facebook


---
Designed and crafted in two months by french students from the ENJMIN and EMCA schools:

Bastien DE L'HERMITE — Game Design, Music, Sound Design
Nicolas LEROY — Programming
Basile BASTIAN — Game Design, Video Editing
Lyne HEHLEN — Animation, 2D Graphics
With the vocal participation of (in order of appearance): Eloi Duclercq (Arlecchino), Rémi Fusade (Mentor Comedian), Brahim Berkati (The Capitano), Maxime Lidolff (Pantalone), and Alisée Preud'homme (Colombina).
Special Thanks:
Bruno Eckert, artistic director - Cie L'Arbre à Nomades
Cie Marionnettes d'Angoulême - Théâtre de Poche Michel Bélézy
Nasir Taov for his Italian translation
Cnam-ENJMIN - Université de Poitiers - Université de la Rochelle - Campus Image Magelis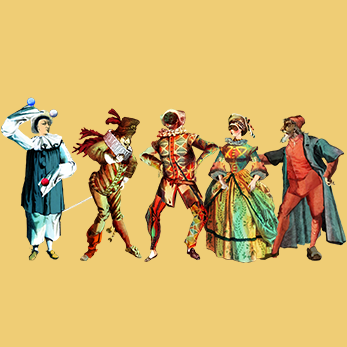 We moved to a new website :
Download the game

Licenced under Creative Commons Attribution-NonCommercial-ShareAlike 3.0 Unported (CC BY-NC-SA 3.0): http://creativecommons.org/licenses/by-nc-sa/3.0